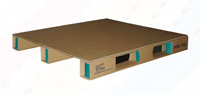 Lighten your Load & Reduce Carbon Emissions
Because corrugated pallets weigh 65-75% less than wood pallets, significant carbon savings can be realized throughout your supply chain by switching to corrugated pallets. You might even be able to ship more product because of this weight savings.
Ship Responsibly
Our pallets contain over 75% recycled material and are 100% recyclable.
Standard and Custom Sizes
Corrugated Pallets are available in standard sizes in versions with both three and four runners, or 9 blocks. Other custom sizes and configurations are available. We have been manufacturing and selling corrugated pallets since 2011: allow our expertise to help your choose the correct pallet for your shipping needs.
Water Resistant
Our pallets can be supplied with a refined petroleum and vegetable wax blend coating. This provides additional strength and durability in extremely humid or moist conditions, while not affecting the recyclability of the pallet.
Benefits of Corrugated Pallets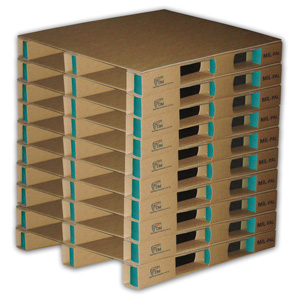 | | |
| --- | --- |
| | 00% Recyclable (easy disposal) |
| | 65% to 75% Lighter than Wood |
| | Water Resistant |
| | Reduces CO² Emissions |
| | Strong Enough to Replace Wood |
| | Cost Competitive with Wood |
| | Safe & Easy Handling |
| | Ship Globally — ISPM 15 compliant |
| | No Nails |
| | No Splinters |
| | No Mould |
| | No Need for Additional Slip Sheet |