DasaMilas Packaging was merged in june 2011. Dasa Oluklu Mukavva and Milas Ambalaj. Both companies were established by Alfasa family. Dasa Oluklu Mukavva , was established in 1969 . The company soon became one of the most recognised and well respected in the corrugated sector by introducing new and various packaging ideas.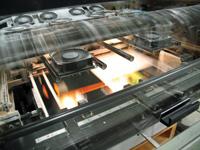 Milas Ambalaj was establised in 1979 and activated in 1999 in Istanbul. The company has been one of the most innovative board converters in Turkey and Eastern Europe. This family owned company has built a strong reputation in product quality and customer service with more than 30 years of experience.
Two of our companies decided to merge in june 2011 to combine their know-how and experience to become the leading packaging converter in the sector. Presently, the company has 400 qualified employees to give the best service possible.
DasaMilas 's customer portfolio includes leading global companies, which have the highest quality expectations for their packaging
In DasaMilas, the internal company workflow and external customer services are provided by the global enterprise resource planning software package ERP Systems.
The company has 2 production sites located in Istanbul with a total closed area of 40.000sqm. DasaMilas is accredited with ISO 9001-2000, BRC/IOP certificates, guaranteeing the most hygienic environment for producing direct food contact and pharmaceutical packaging.
DasaMilas has an annual converting capacity of 48.000 tons of cardboard and Paperboard all together. Export sales represent 25% of the production.